How to Naturally Improve Home Lighting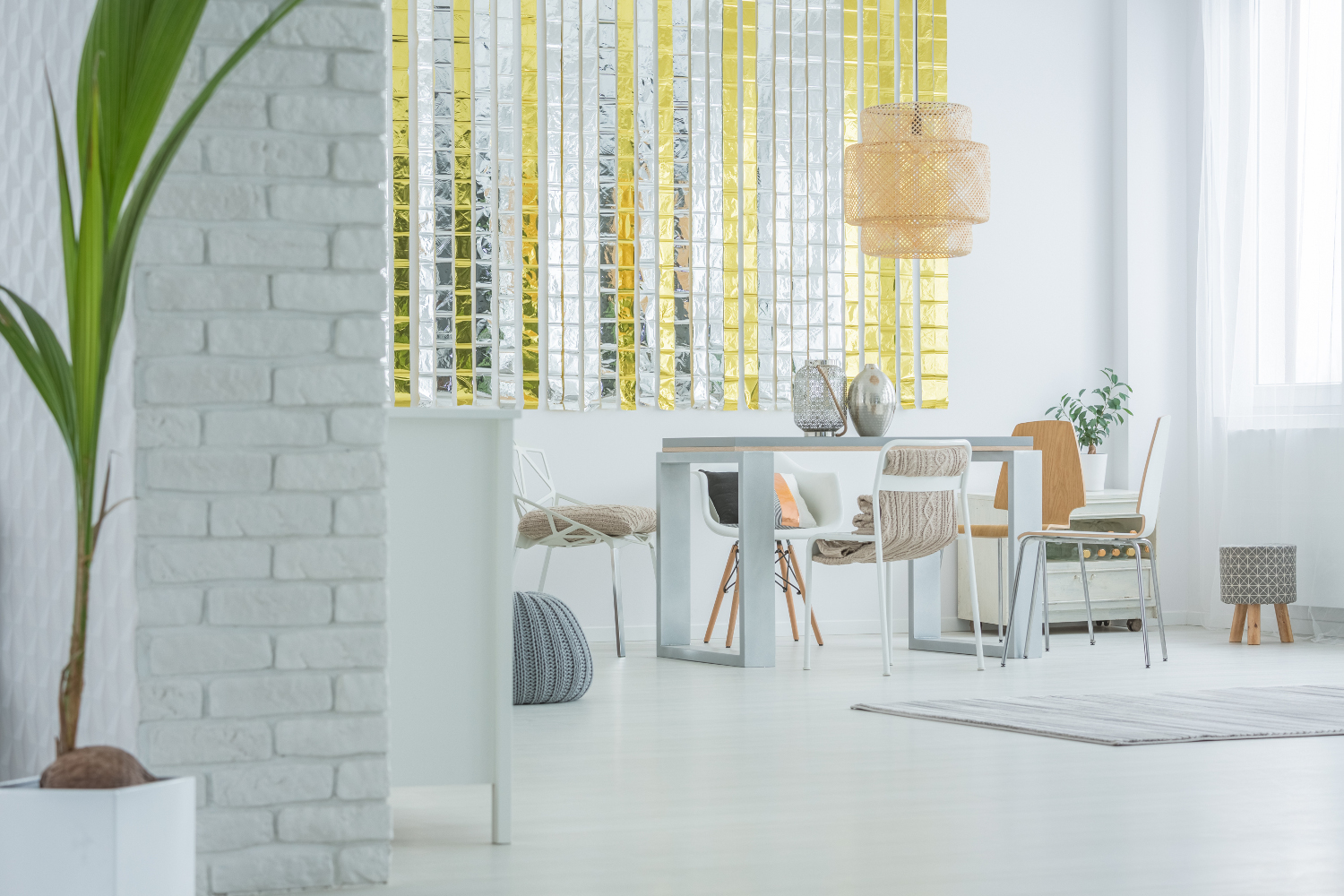 Is your home interior too dark, no matter how brightly the sun is shining? Natural light is a wonderful way to brighten up a dreary home, but sometimes it's difficult to figure out how to let more in. Some homes have several obstacles in the way of natural light – not enough windows, bad window placement, thick foliage blocking the sun, or other factors that you may or may not be able to change.
If you're willing to make a few changes, there are ways to improve your home lighting besides putting a lamp in every corner. First, let's take a look at some ways to remodel your home to strategically add new windows and maximize that wonderful natural light source. Then, we'll go over a few other ways to brighten up your home that doesn't require busting through walls.
Clerestory Windows
This is an architectural style that places windows above eye level, usually near the roofline. This placement helps diffuse the light coming into the room while maintaining the privacy of your home. These windows are perfect for bathrooms. They're also popular in kitchens, which tend to have minimal wall space for extra windows. Depending on your kitchen design, they can be placed above the cabinets or even installed in place of a backsplash behind your countertops.
Transom and Sidelight Windows
Need extra light around your entryways or current windows? Transoms are small windows often added above doors, though they can be placed above other windows as well. They let in some great natural light while maintaining privacy. The windows can be installed in the form of an arch, a circle, a simple rectangle, or a more complex pattern. No matter what shape you choose, a transom will add light and style to your home. You can also add sidelight windows to the sides of a door or window in addition to or instead of a transom window.
Door Windows
If you want even more light to come from your entryway, have you considered installing doors that contain built-in windows? Not only will this style add some curb appeal to your home, but it's also a great way to get some more natural home lighting. Windowed doors come in many styles, ranging from small openings near the top of the door to sliding doors completely made of glass.
Bay and Bow Windows
If you have a room that desperately needs some more light (and maybe some extra space), consider adding a bay or bow window. These window installations curve outward from the home, with bay windows having 3 panes and bow windows usually having 5. Having so many windows clustered together that extend from the side of the house allows for a great deal of natural light to enter the room. It also makes for a pleasant spot to hang out, so you'll often see this type of installation connected to dining rooms, kitchens, or other sitting areas.
Skylights
If you don't get enough natural light from the windows on the sides of your home, a skylight might be the right choice to add to your home lighting. These are added to the rooftop and allow light to shine down into an area from above. Not all homes are designed in a way that allows for a skylight, but it's something to consider when adding windows.
Other Ways to Improve Home Lighting
If it's just not feasible to add any more windows or glass doors to your house, there are a few things you can do to further brighten up your rooms:
Change the Wall Color - Using a lighter color of paint or wallpaper will reflect the light that enters the room, making it seem like there's more light overall. Dark statement wallpapers and accent walls will reduce the brightness of a room, even if there's a good amount of light coming in.
Use a Different Type of Paint - While you're repainting the walls a lighter color, use a glossy or high-sheen finish. The shine of the paint will reflect the light coming in even more, instantly making your room appear brighter.
Add Mirrors - Putting mirrors onto your lighter, shinier walls will increase the light reflection even more. They'll even make the room look bigger!
Brighten up the Floors - Choosing a light-colored wood or ceramic flooring style can also improve the natural lighting of the room. As with the walls, light-colored, shiny floors will naturally reflect the light back up into the room and make it appear brighter.
Think Outside - Make sure your trees and shrubs are trimmed back, so that more light can flow into your home. While you're out there, go ahead and give your windows a thorough cleaning. The dirt and debris that sticks to the windows leaves behind a film that stops light from entering. You might be surprised by the difference a good window washing makes for your interior home lighting!
Remodeling your windows will make a huge difference in your home lighting, whether you add some clerestory or transom windows up high or bust out a wall for a beautiful bay window alcove."
These are just a few ideas to consider if you're trying to get more natural light into your home. Remodeling your windows will make a huge difference in your home lighting, whether you add some clerestory or transom windows up high or bust out a wall for a beautiful bay window alcove. If you've already added windows or can't remodel right now and still want brighter rooms, the other ideas listed above can help you gain some natural home lighting in the meantime.
Any time you're shopping for new windows, whether it's to increase your home lighting or replace a broken one, keep your energy costs low by looking for energy efficient options!